Last Updated on August 7, 2023 by Aske
In my recent search for the best badminton rackets for doubles, I dusted off my old friend, a smash-prone racket that I didn't feel skilled enough to take advantage of earlier in my badminton "career".
I wanted to compare it against my flexible 2-for-1 garden racket in order to figure out what would work best for me in preparation for an upcoming tournament.
That led me down the rabbit hole researching a ton of rackets to understand if I already had the best fit for me or if I should consider "befriending" (aka buying and learning) a new one.
I figured it would make sense to put my research here if anyone else is looking for a new doubles racket too.
To be honest with you, the research was overwhelming as there are so many rackets available, and except for a few overarching categories, they all seem awfully similar. Each brand has a few distinct racket styles within the overarching categories of power, speed, and control.
It's tricky to compare rackets of the same style across brands with each other, such as attacking power rackets from Yonex against those from Victor or Li-Ning.
They name their technology differently and it can be challenging to figure out which rackets are intended for the entry level player compared to advanced, beyond guessing based on the price. It almost feels as if we need to be a racket engineer in order to understand.
Anyway, enough about me blabbering about how confusing it is to find the right racket. I'm sure you're already aware of that and that's why you're here.
The key ingredients in the best badminton doubles rackets
I've noticed that there's a clear difference between singles and doubles games, and whether you prefer to play the front or rear court, which translates back to the racket.
Doubles games tend to be higher paced, more prone to fast drives across the net, and forcing the opponent to make errors. The serve, return of serve, and keeping the attack also often have a bigger impact on the points than in singles where footwork and stamina are said to make the difference.
It tends to be easier to block or lift smashes in doubles with two players covering the sides of the court, so sequences of lift-smash-lift-smash are common. In singles it's more common to finish the rally by hammering it in the ground with a well-placed smash.
In terms of rackets, that translates into players often wanting a lighter and faster racket compared to singles. Players tend to prefer the lighter 4U weight class, needing to switch between grips and quickly moving the racket around near their body to cover flat and fast duels around the mid-court for example.
These types of shots tend to come fast with little reaction time, which makes it challenging to react if you're running around with a heavy sledgehammer. Doubles games also offer many opportunities to win points through intercepting shots by pushing the shuttle back earlier than otherwise expected and catching the opponent off guard. Which, again, requires speed.
Another key component is how technically skilled you are and how much power assistance you'd like from your racket. A flexible racket will be great for beginners as it'll be more forgiving if you don't hit the shuttle with good technical skill and timing, whereas a stiffer racket can produce more power but will punish you if your technique isn't good enough to tame the beast.
With that in mind, a head heavy or evenly balanced racket tends to produce the best power in the rear court whereas a head light racket tends to provide better performance around the front court. With many new combinations and technology, it isn't that straightforward but it's an easy rule of thumb as a general sense of direction.
Okay, enough hoo-ha. Let's look at some rackets!
The best badminton rackets for doubles: five kickass options to rule the courts
Instead of a long list of potential rackets that you can research until the end of time, I've narrowed everything down to just five based on your skill level.
Hey reader, a quick interruption

I'm experimenting partnering with webshops that sell badminton gear, like Amazon. I'll include links to buy the gear I review and if you do, they'll pay me a small commission. That doesn't change your price and you'll get more play-tested gear as a result but I thought it was fair to let you know.

I appreciate your support,
Aske\
Here's the breakdown of the best badminton rackets for doubles:
1. Best racket for entry-level players: Yonex Astrox 77 Play
2. Best racket for beginner players wanting power: Astrox 99 Play
3. Best racket for intermediate players wanting power: Yonex Astrox 100 Game
4. Best racket for intermediate players wanting frontcourt speed: Yonex Astrox 88S Game
5. Best racket for intermediate players wanting everything: Yonex Arcsaber 11 Play
The five best badminton rackets for doubles compared in a matrix
Here's an overview of all the rackets and where they fall on a racket matrix comparing the flexibility of a racket compared to its head heaviness.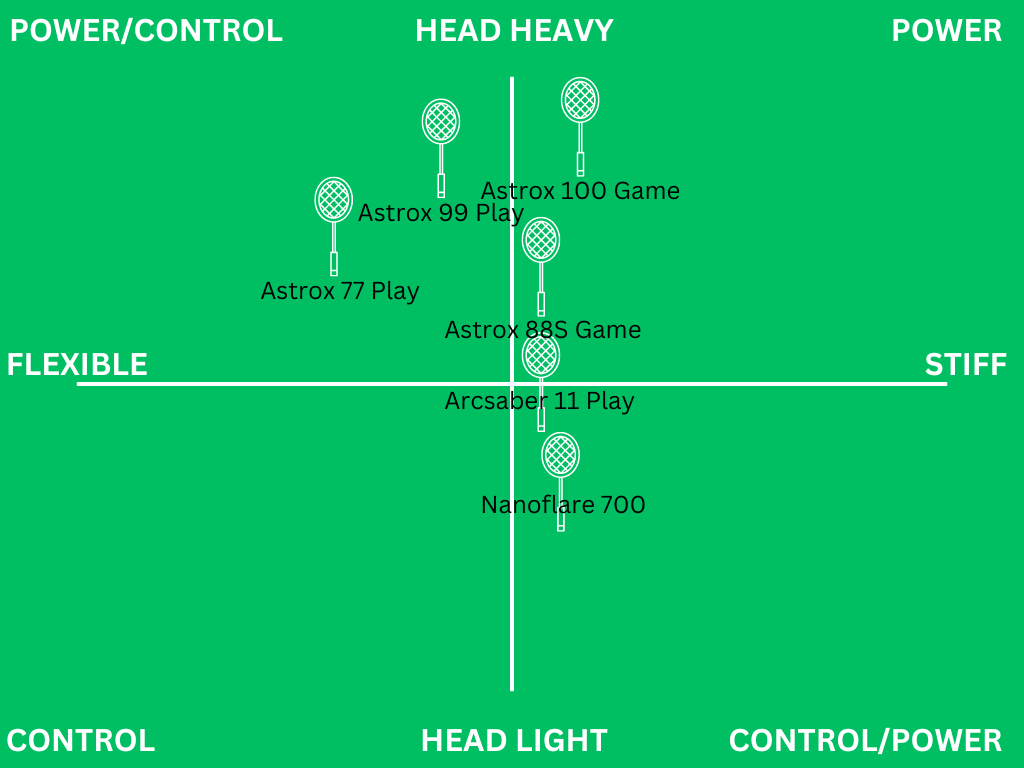 1. Best racket for entry-level players: Yonex Astrox 77 Play
In this category, the budget-friendly Yonex Astrox 77 Play is a good choice.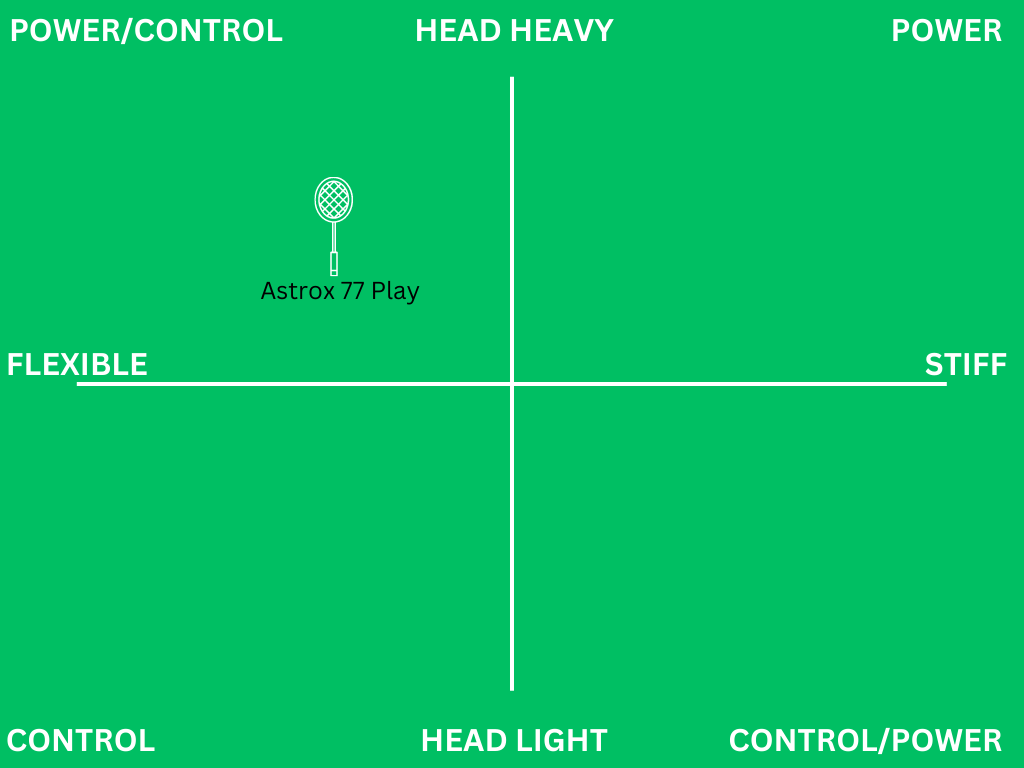 I recently published a review of the Yonex Astrox 77 Play after play-testing it for a while. It's a great racket across the board and doesn't really have any major downsides.
The only thing I'd say is that when you focus on being above average in all categories, you trade that for not being outright amazing in just one single area. That's what makes it a great beginner racket but it's worth noting.
It's possible for the racket to be this way because it's head heavy, which gives it a power prone nature, but not by much. With games at the beginner level, it's all about having fun and that comes from keeping the shuttle flying.
We are the most likely to be unable to return our opponent's shot, so that's where we need the most help and where this racket is good. It swings pretty fast, meaning that even if you haven't gotten into the habit of keeping your racket held up and ready at all times, it'll slice through the air without much trouble so you can still send the shuttle back across the net even if you didn't anticipate the shot coming.
Key Specs
Weight Class & Grip Size: 4U/G5
Balance Point: Head heavy
Flexibility: Flexible
2. Best racket for beginner players wanting power: Astrox 99 Play
When I play-tested the Astrox 99 Play racket, I found that it was a powerhouse of a racket and likely the most powerful racket suitable for beginners.
It'll be particularly fun to play with at the rear court and is among the best badminton rackets for doubles if that's you're preferred role on the court.
The Astrox 99 Play is one-sided, meaning that soft shots in defense and around the net will be challenging as it's slow and heavy compared to other doubles rackets but all that power makes it easy to whip the shuttle back over the net if you're getting the shot late.
I've found that it's better suited for regular beginners than entry-level players as you'll be better off feeling somewhat comfortable timing your shots. It might not be forgiving if you don't hit it in the racket's sweet spot.
If you're a total beginner, the 99 Play likely isn't for you but if you're an advanced beginner, on the way to moving into low-intermediate and likes power you might be leaning more toward this racket.
Key Specs
Weight Class & Grip Size: 4U/G5
Balance Point: Head heavy
Flexibility: Medium
3. Best racket for intermediate players wanting power: Yonex Astrox 100 Game
When play-testing the Yonex Astrox 100 Game, it felt like a smashing machine for the intermediate player.
I had a lot of power with this racket, and for doubles games, perhaps even a tad too much but it was a joy to play with.
Even with my limited technique (I'm an intermediate player), other players commented on the powerful smashes I've been able to produce. The sound I'm getting is not like a professional or advanced player for sure, but, ahh… it's damn satisfying.
I've found that the power the Astrox 100 Game has can be useful if you're tired and late to the shuttle as it often doesn't take much work to whip it over the net even further back than the midcourt.
Speaking of midcourt, I found this racket pleasant for fast flat drives where you're battling over the net to see who makes an error first. I was often able to send shots back with enough power that they were hard to return with precision due to their speed.
On the other hand, I found tight net play difficult to control. It was too easy to give it a bit too much height and open up for a net kill to an opponent who was paying attention.
As a reference point, the 100 Game is the easiest racket to use in the Astrox 100 category, whereas the ZZ is the high-end and most difficult model. Both the 100ZZ and the 100 Tour are not suitable for intermediates due to how stiff they are.
Here's my detailed review of the Astrox 100 Game.
Key Specs
Weight Class & Grip Size: 4U/G5
Balance Point: Head heavy
Flexibility: Medium
4. Best racket for intermediate players wanting frontcourt speed: Yonex Astrox 88S Game
First pick: Yonex Astrox 88S Game
The Yonex Astrox 88S models are intended as the front court sibling to the Astrox 88Ds. The pro model is the best of them and on paper, it packs less raw power in exchange for a faster swing that lets you smoothly handle net shots and midcourt duels.
Besides the Astrox 88S Pro, there's also the Play, Game and Tour models where the Game is made with intermediate players in mind. It's more budget friendly than the pro and its specs have been stripped a bit in exchange for being easier to play with if your skills aren't advanced.
Key Specs
Weight Class & Grip Size: 4U/G5
Balance Point: Head heavy
Flexibility: Medium
A good alternative: Yonex Nanoflare 700
A good alternative is the Yonex Nanoflare 700, which is one of the flagship rackets in the head light division after the stiffer and more-difficult-to-tame Nanoflare 800.
Speed is the keyword here and while I haven't tested this racket yet, I understand that it's great in defense and ready to help you with tight, controlled net play. The racket's ability to hold onto the shuttle as you guide it around the court is good but you'll likely have to work harder to get a lot of raw power out of this racket.
Key Specs
Weight Class & Grip Size: 5U/G5/G6, 4U/G4/G5/G6
Balance Point: Head light
Flexibility: Medium
5. Best racket for intermediate players wanting everything: Yonex Arcsaber 11 Play
Yonex's Arcsaber 11 Play is a great option if you don't have a pronounced playing style focusing primarily on defense and counter-attacking or straight-out attacking or smashing.
I recently play-tested the Arcsaber 11 Play and found that it's well suited for doubles games as you'll be pushed around the court during rotations and have to handle both frontcourt net play, rearcourt attacks, and midcourt duels.
Since this racket isn't meant to be crazy powerful, it helps you avoid only pushing the game toward lifts that you can attack on but allows you to play with more versatility.
Overall, it's an awesome racket and great value for money. The downside is that it won't be super fast or powerful.
Key Specs
Weight Class & Grip Size: 4U, G5
Balance Point: Even balance
Flexibility: Medium
Takeaways
Doubles games usually require more speedy rackets in the lighter weight class than singles games
When it comes to the best badminton rackets for doubles, rackets on the head lighter side tend to suit the front court and net play better whereas head heavy rackets tend to be better for the rear court. However, with new combinations in recent years, it isn't that simple anymore but it's a good general rule of thumb to simplify things
The more flexible the racket, the more suitable for beginners it is as it offers more assistance if your technique and timing aren't perfect yet
Which racket is best for smashing?
It depends on your style but the Yonex Astrox 100ZZ as currently used by Viktor Axelsen is a good contender as the best racket for smashing. Its weight balance is head heavy and it can deliver raw power in your smash. If you can tame it that is – it isn't intended for beginners due to its extra stiff shaft.
Is Astrox 99 good for doubles?
The Astrox 99 can be good for doubles but these days there are similar and more popular rackets out there like the Astrox 88S and 88D depending on your style of play.
Is Astrox 100 ZZ good for doubles?
Some pro men's doubles players use the Astrox 100ZZ racket as their preferred racket, often for the rear court to deliver devastating smashes and raw power. It isn't intended for beginners due it its extra stiff shaft that requires good technique.