Last Updated on May 17, 2023 by Aske
I was down at the badminton court one morning comparing notes on the best badminton shoes with the other players.
I realized that we are often so focused on expressing our opinion, that we don't realize we are talking past each other.
One player argues X shoe is best as it offers the best value for money. Another says Y shoe is best because of its performance regardless of its price point, while a third suggests that the most important thing is to protect your body, making Z shoe the best.
When comparing the best badminton shoes it's hard to compare apples to oranges like that as they fulfill different needs.
Instead, we'll have to look at them as different categories and find the best badminton shoe within each of them.
The best badminton shoe brands and their categories
There are plenty of shoe brands out there that make sports shoes and in theory, you could use any of them if you're playing outdoors.
But, if you're like most other badminton players and prefer indoor courts, you'll need shoes made for that. I know some players that prefer to play in more casual trainer-type shoes and all the more power to them.
The critical part is that it's a non-marking shoe made for indoor sports, which usually means that the outsole isn't black underneath. Everything else is based on your preferences and you could use a shoe from another indoor sport provided it's a non-marking one (it'll usually say if it is right on the outsole itself).
There are a number of shoe brands that produce badminton shoes and there isn't one that's simply better than the others as many of them compete across the same subcategories, like being budget-friendly, best performance, most lightweight, etc.
That being said, in general, players tend to favor one of the big three as the best badminton shoe brand: Yonex, LiNing or Victor.
To find the best badminton shoes, let's dive into the following five shoe categories:
1. The best performer: Victor A970Ace
2. The best on a budget: Perfly BS530
3. The best protector: Yonex Eclipsion Z3
4. The best cushioned: Yonex Comfort Z3
5. The best lightweight: Yonex Aerus Z2
The best badminton shoes: a comparison matrix
I'm making an attempt at plotting these shoes into a matrix, so it's easier for you to compare and get an overview. It's tricky to get right, especially across brands and price ranges, so take it with a grain of salt as it's hardly perfect.
On one axis we have light and fast the shoe is, while on the other shoes cushioning and comfort against stability.
It's hard to compare durability across different use cases and plot it into a matrix like this one, so I've left that metric out.
The best badminton shoes by category
Let's dive into the shoes!
1. The best performer: Victor A970Ace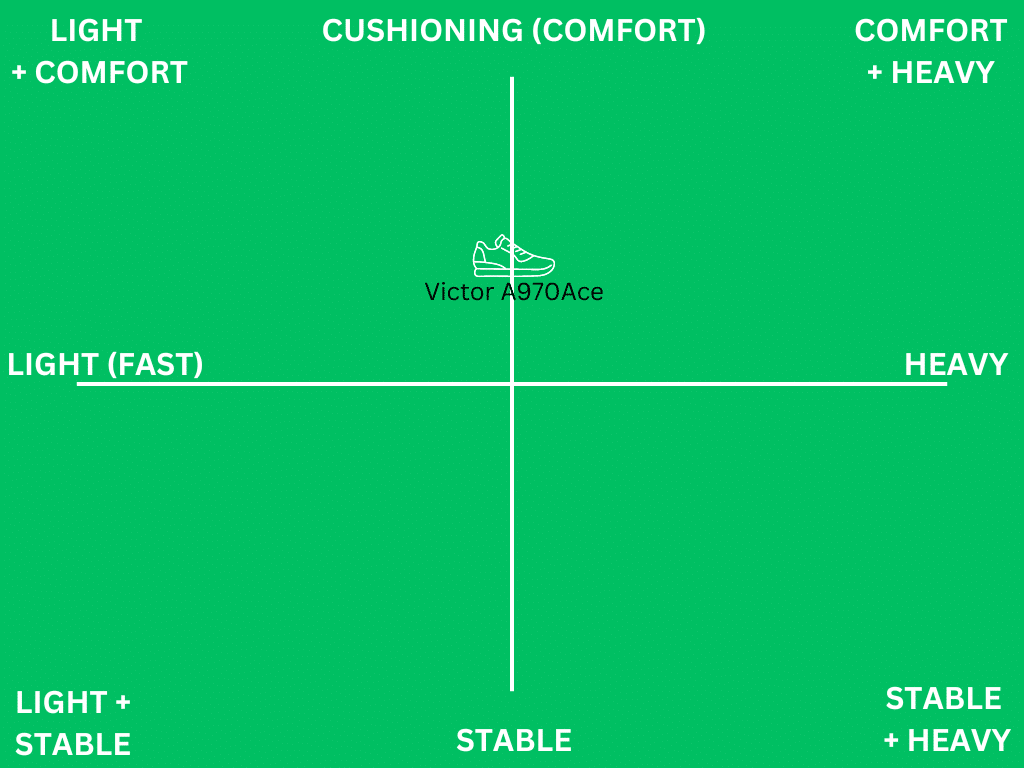 The best performance shoe is its own category among the top badminton brands and I recently changed my opinion about the best performer overall.
Since getting the Yonex SHB 65Z3 I've loved the pair, but now that I've had a chance to test the newly competing shoe from Victor, The A970Ace used by Lee Zii Jia and Anders Antonsen, I find that one better suited for my feet.
It's slightly narrower at the front of the shoe and feels a tad more protective at the bottom of the big toe along with at the very front where the toes bump against the shoes when explosively lunging to defend a tight net shot. I especially noticed this during front court drills.
At the same time, the midsole feels like it's providing a slightly nicer cushion underneath the foot compared to the 65Z3.
Many of the other areas they compete on, such as the grip underneath the outsole, felt equally good despite being made with different technology. Here's my detailed test and review of the Victor A970Ace.
2. The best on a budget: Perfly BS530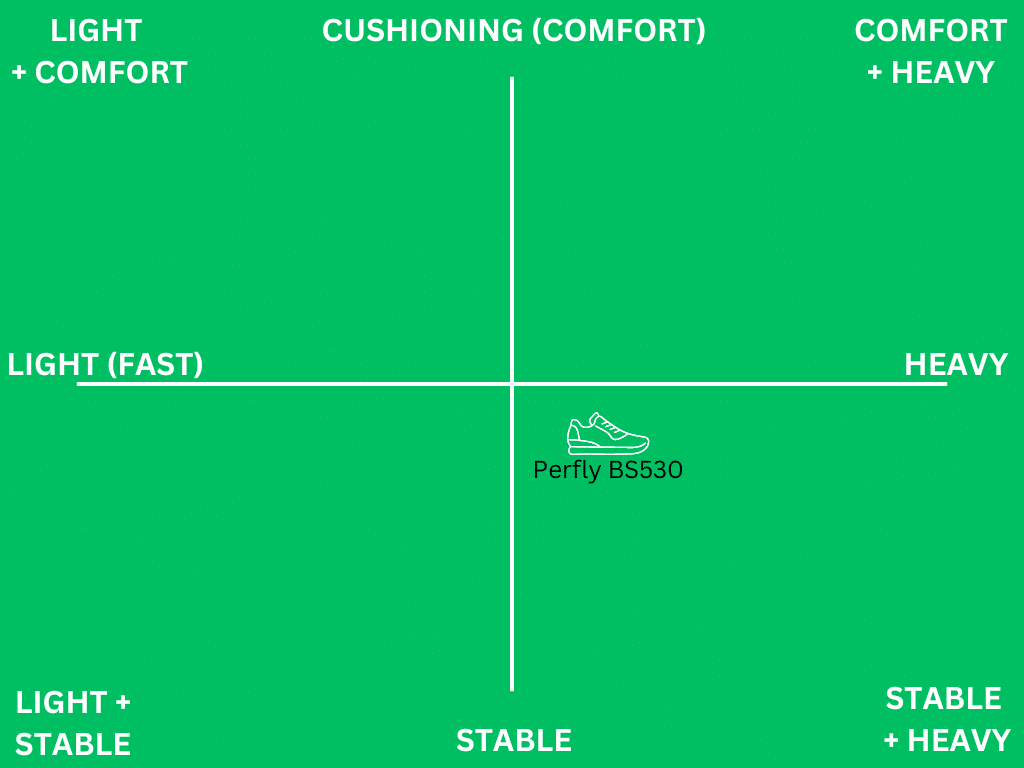 Finding the budget-friendly best badminton shoe is always tricky as you know that the brands have to cut down on something in order to make it available at the price point you're interested in.
I've found that we tend to get a little extra by considering brands that are fighting to get more market share as they'll usually go the extra mile to impress us, customers. The problem is that it's usually hard to tell which brands those are, except it's not the most established ones like Yonex.
One example is Decathlon's Perfly brand which makes badminton gear. I used their Perfly BS 530 shoe, costing about $40 here in Vietnam, a few times a week for six months or so and I was happy with them. They offered good value for money and didn't break as opposed to the Yonex shoe in the same price range I got after.
The Perfly BS 530 has extra padding on the outer layer of the shoe, on the inner side of your foot, for better durability when you lunge and use your non-racket leg to control the movement.
It also has the non-marking indoor sole, required of most venues. The shoe has a bit of shock absorption–what I'd expect considering the price, but nothing spectacular. In fact, just a little compared to other budget shoes like Yonex's Precision 1.
Overall, this is the best budget badminton shoe I've tried. If I had to start over and get another budget shoe, I'd probably get this one again.
3. The best protector: Yonex Eclipsion Z3
If you're looking for the best shoe to protect your feet, you might like Yonex's new Eclipsion Z3.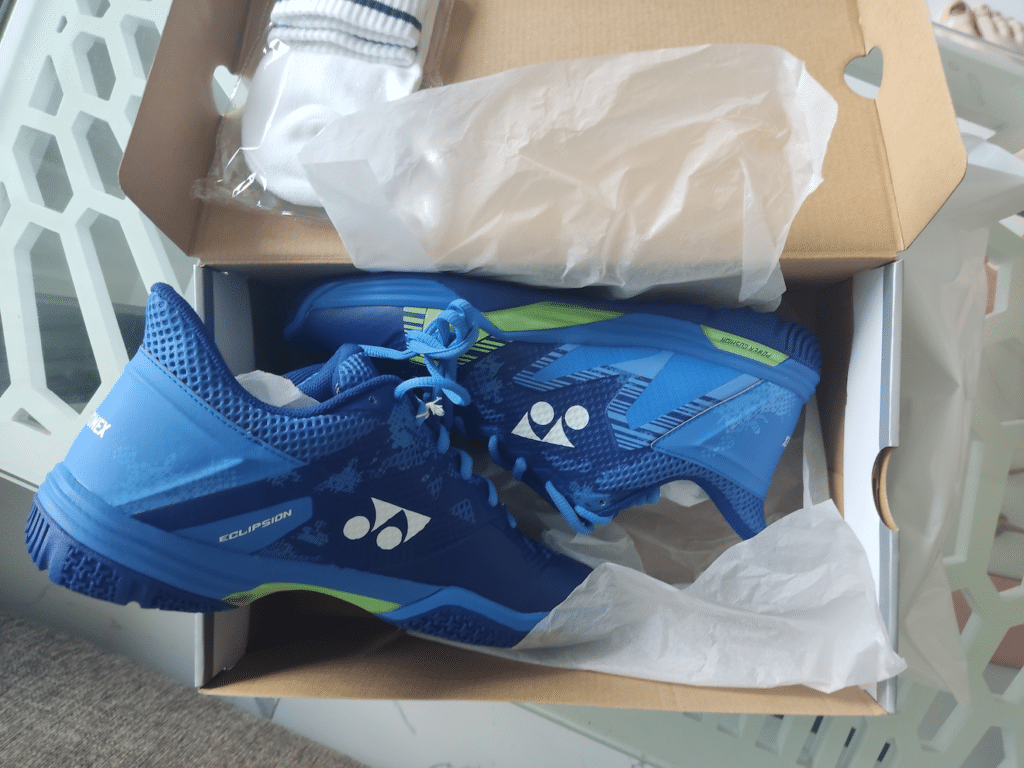 The color scheme of the newest, third edition, looks hella fresh and is known for firm stability, some cushioning, and durability.
It felt decently cushioned but not crazy better than their cousins in the performance shoe category. For this shoe it's all about stability, meaning your feet are locked in to avoid moving around to cause you issues. I found it to be extra snug, almost like a badminton boot if there ever was one as I share in my review play-testing the Eclipsion Z3.
It comes with the grippy radial blade sole, which is awesome and my current favorite outsole as it's like glue without being too much.
The Eclipsion Z3 has ventilation holes underneath the shoe, which is especially nice if you get hot feet while playing (I basically play in a sauna, so for me it's critical). That being said, it's still a fairly hot shoe to play in–hotter than performance shoes like Yonex's SHB 65Z3 or Victor's A970Ace.
One downside to this shoe is that the heel area is extra tall and caused some irritation against my skin for the first 10-15 hours of playing, but that did disappear afterward.
Overall, it's a great badminton shoe for the player who wants to prioritize protection and staying injury free over speed and performance. It'll be a good fit for the casual adult player, rather than the ambitious tournament player.
4. The best cushioned: Yonex Comfort Z3
If you're looking for the best badminton shoe for comfort and cushioning, consider the Yonex Comfort Z3 as it's meant to be the shoe with ultimate cushioning.
It comes with the radial pattern on the sole for extra grip and Yonex's Power Cushion+ technology for better shock absorption and repulsion in jumps or quick moves around the court.
The shoe also goes under the name Yonex Power Cushion Comfort Z3 and has thicker material on the upper part of the shoe for protection, along with the shoelace-area made with a slight curve to better fit the arch of our feet.
The downside is that it has no ventilation holes at the bottom of the shoe, meaning that your feet might get hot.
Unfortunately, I haven't been able to find this shoe in my size and play-test it yet.
5. The best lightweight: Yonex Aerus Z2
When it comes to the best lightweight shoe, there's the popular Yonex Aerus Z series.
I've been struggling to get access to this shoe in my size, but I understand that it carries the same double raschel mesh as we know from the 65Z3 to help with airflow and moisture at the top of the shoe.
It also has both the Power Cushion and Power Cushion+ technology around the heel area for better shock absorption and repulsion during jumps and fast movement around the court.
The original Aerus Z came with the hexa grip pattern on the sole but the new Aerus Z, which appears to be called Z2, has been upgraded to the radial grip that provides better grip when playing.
It's a bit of a mystery with the new model as I saw the news on Yonex website from October 2022 but I can't find it available in any stores. On the other hand, I notice the current Aerus Z running at great discounts, so the stores might be clearing stock before taking in the new one.
You might be able to get a good deal but if you're looking just based on performance, it seems on paper, as if the new model is worth the wait, especially with the radial sole.
The best men's badminton shoe vs. the best women's badminton shoe
When it comes to the best men's badminton shoes and the best women's badminton shoes, the top brands tend to have each of their flagship shoes available in specific models for each gender.
That means the suggestions above still apply no matter your gender and some models have unique colors made specifically for each gender.
The best Yonex badminton shoes (for the fan-boys out there)
Many of the shoes I've covered are Yonex shoes, so you could argue that this is almost an article on best Yonex badminton shoes.
If you're a fan of Yonex products and are looking for the best performance shoe they offer, check out the Yonex SHB 65Z3 (the number "3" stands for the third generation, which is the latest model).
It offers a good balance between comfort, speed, and protection. I've written an in-depth Yonex 65z3 review based on my own experience play-testing this shoe. In short: it's great.
It's grippy and protects your toes fairly well when, say, you are performing quick stop-movements like lunging to get a tight net or drop shot. It's reasonably comfy for a high end shoe and the power cushion feels a bit like having a basic pillow wrapped on your feet while still being lightweight and quick to move around on court.
I've been struggling to find detailed information that gave me confidence in the shoe models from Victor and LiNing. The next step is for me to buy each of their flagship models and test them out myself.
Takeaways
There are specific flagship models available depending on your preferences within lightweight, performance, and protection for your feet