Last Updated on May 30, 2023 by Aske
Before we get into the Yonex 65z3 review and my experience with the shoe, allow me to clear up any confusion: there's also a budget version of the 65z3 shoe called 65×3.
You'll be able to tell the difference in pricing and by looking at the print near the shoelaces as shown here.
The number three in Yonex SHB 65 z3 refers to the third generation of the shoe and the most recent one available at the time of writing this.
If you're trying these shoes on at a store, make sure you're not confusing them so you get what you're expecting. This shoe falls into the overall performance category, meaning that it balances performance like being speedy and lightweight with cushioning, shock absorption and stability.
When I began playing badminton again, I wasn't sure if I was in it for the long haul, so I went through a few pairs of budget shoes that wore out until I eventually decided to get a proper one.
I went to the internet to find my next pair and after lots of research, I ended up with the Yonex Power Cushion 65Z3.
I was especially drawn by the fact that they are used by SO MANY top players, it's crazy. At the time of writing this, they are used by pro players like:
Viktor Axelsen
Kento Momota
Akane Yamaguchi
Kevin Sanjaya Sukamuljo
Dechapol Puavaranukroh
Lee Yang
Yuki Fukushima
Satwiksairaj Rankireddy
Aaron Chia
Fajar Alfian
Zheng Si Wei
Marcus Ellis
Arisa Higashino
Kanta Tsuneyama
B. Sai Praneeth
Tang Chun Man
Yonex 65z3 review and my experience
I'm now on my second pair and they are great. As soon as I tried them on, I noticed how big a difference high-end shoes make when playing badminton.
At the time, my only reference point was budget badminton shoes. So I wanted to upgrade this review after having tested other flagship shoes, including what seems to be Victor's direct competitor, their A970Ace.
In terms of design, these shoes fall somewhere in the middle for me. The white-blue combination is nicer than many other shoes built for the sport, and it looks better than many of their other variations, but there's loads of room for improvement.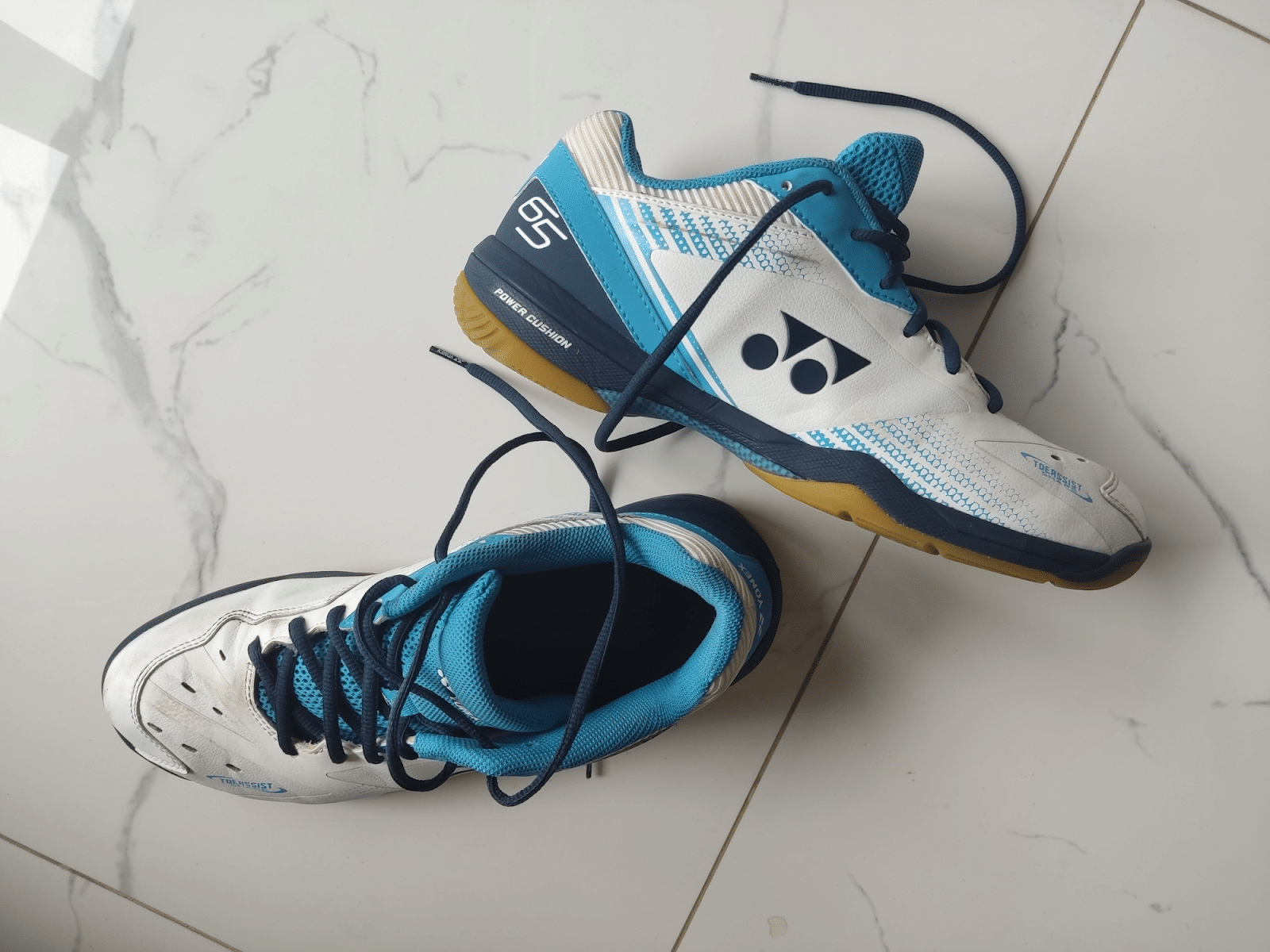 It's such a shame that the outsole isn't dyed as we see on the new Yonex Eclipsion Z3. It completes the look nicely.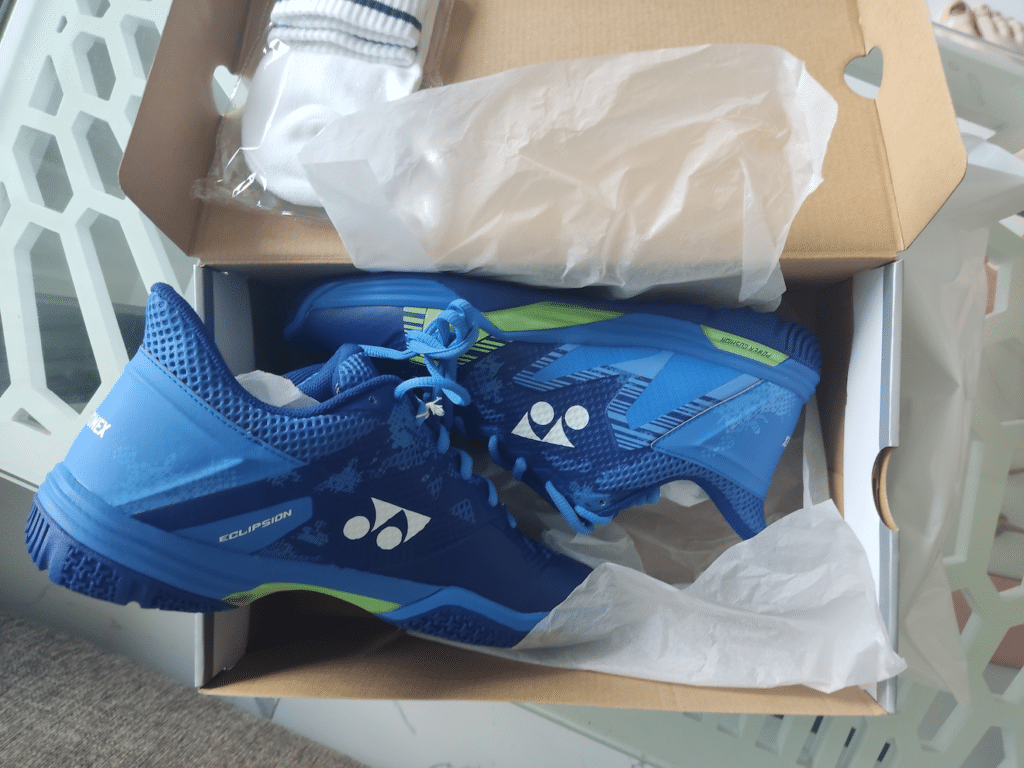 White is also a challenging color to keep nice over time due to dusty or dirty courts and general wear and tear like "the lunge tear" (you and I will get into that later in this review).
Unboxing and first impressions
The shoes came in a nice and "proper" box. While there is still room to make this part of the experience better as we know from other sports brands, it's better than my experience with shoes from other badminton brands.
Fit
I broke the shoes in before playing by wearing them around the house for several hours. When I first got them on, I remember how snug they felt around my feet.
Not in a tight way, like I later experienced with the Yonex Eclipsion Z3, where I wasn't sure if the sizing was correct. They felt just right.
In fact, they felt quite thick around the sides, especially near my ankle.
The only place where I felt there was too much room was on the sides at the front of my foot, near the toes. I wasn't using the wide-edition of the shoe and I wouldn't have noticed this if I hadn't tried other similar shoes for comparison, but it allowed for my feet to move sideways slightly more than, say, Victor's A970Ace.
This caused a bit of friction between the skin on the side of my big toe and the inside of the shoe which could lead to blisters for some players (using sports plaster seems to fix it). This seems to be a matter of preference and foot shape.
The outsole and grip
One thing that stood out to me was how much more grip I got with these shoes on the court when upgrading from my previous budget shoe.
I felt glued to the floor with Yonex's radial blade sole design, and compared to other high-end shoes this is still the best grip I've experienced.
As odd as it sounds, when switching between shoes while playing I need at least a full game to adjust to the shoes and the difference in grip.
The toe area and protection
I was particularly concerned with the toe area, and how well my feet would be protected during explosive defensive moves. Think when you're performing lunges to get tight net shots or drops where the toe will be pushed forward within the shoe by your body weight.
I found the toe protection good considering this is a shoe-balancing performance with protection. It wasn't as reinforced as the Yonex Eclipsion Z3 but if it was, the trade-off would be a bulkier, heavier shoe.
Compared with the Victor A970Ace, I found Victor's protection slightly better, especially during drills for front court footwork. When I brought both shoes to court and felt tired or needed to protect my feet for a session the following day, I'd go for the A970Ace.
Insole
The insole felt nearly identical to the one in Victor's A970Ace and by the looks of it, they are.
They follow the same wavy design at the front of the insole and the material felt like it helped against slipping forwards or backward within the shoe, but just a bit. I didn't notice anything unusually good or bad with the insole here.
Yonex's 65z3s do have more air holes than the A970Ace which helps increase ventilation. For me, that's a nice touch as it's hot like a sauna where I play.
The heel area
The heel area was just fine with nothing worth noting in terms of fit or protection, which is a slight step down from the A970Ace. That model has reinforced heel protection on the outside and its ugly top padding for a better fit.
But the button of the heel on the 65z3 felt interesting when you put the shoes on. Almost as if the back of your foot is slightly elevated and like you're on starting blocks for a 100-meter sprint.
This is a good feeling and does cause a slight soreness between the heel and your calves when you first use the shoes. Nothing major and it goes away again after a few sessions.
Nice touch.
Cushioning and shock absorption
The cushioning and shock absorption is top-tier and feels soft, especially after landing from, say, a jump smash.
It didn't feel as nice as the A970Ace underneath the entire foot from heel to toe but close. I have a feeling that the 65z3 is targeting speed and being lightweight slightly more than protection and cushioning.
Overall, the shock absorption and cushioning are definitely respectable and don't feel bad at all when, say, you lunge a tad late or hard.
Upper shoe area
In most reviews, I don't touch much on this area as it's not something most players think about.
The upper part of the shoe tends to help with fit and air ventilation on some models, and in the 65z3 it feels just fine around the back of the foot. Nothing in particular to touch on, so let's move on.
Durability
I've used the second pair I'm wearing now for about 36 hours on court and they still feel good with no signs of breaking anywhere.
It's difficult for me to test a pair of shoes and their durability over the course of a year while also prioritizing testing new models, so take this with a grain of salt.
However, I have had some models break quickly and I've found that one clue is the tear on the side of the shoe that comes when we lunge and use our non-racket foot to slow down. I refer to this as the Lunge Tear.
Despite it turning ugly quickly due to the white design, the shoes are in great shape with nothing to worry about thus far.
Downsides of the Yonex 65z3
Overall, this is a terrific choice of shoe for what it's trying to do.
It's lightweight, it's fast, with a good fit, cushioning, and shock absorption. It can't be everything to everyone, which is why it doesn't get a perfect score in all categories. It's one of those shoes that are easy to review as it's just great all around.
Hey reader, a quick interruption...

I'm experimenting partnering with webshops that sell badminton gear, like Amazon. I'll include links to buy the gear I review and if you do, they'll pay me a small commission. That doesn't change your price and you'll get more play-tested gear as a result but I thought it was fair to let you know.

I appreciate your support,
Aske
Yonex SHB 65Z3: the verdict
The toe area and protection
Cushioning and shock absorption
Technology and marketing used in this shoe
| | |
| --- | --- |
| Size Available | 25.0~31.0 cm |
| Outsole | Rubber |
| Midsole | Power Graphite Sheet, POWER CUSHION+, POWER CUSHION, Feather Bounce Foam |
| Upper | Double Raschel Mesh |
| | |
Which player is the Yonex SHB 65z3 for?
Next, let's look at who these shoes are best for and who should avoid them.
Who it's for
The Yonex 65z3 is for players who want the best of the best for their feet and are willing to pay for it, as this shoe tends to cost in the $150 range.
It's not the most lightweight or the most protective shoe, rather it blends elements of both to create one of the best badminton shoes when it comes to performance.
I look at it as a terrific all-around shoe, leaning slightly more towards speed and performance over cushioning.
Who it isn't for
This shoe isn't for players who prefer ultra-lightweight shoes or shoes that prioritize protection and cushioning above all.
If the ladder is you, you might like Yonex's Eclipsion Z3.
Yonex SHB 65z3 compared to other shoes
Let's compare the shoes to other similar models.
Yonex SHB 65z3 vs. Victor A970Ace
In this review, I've been comparing the Yonex SHB 65z3 to the Victor A970Ace here and there, so this section will capture some of the important differences rather than repeating everything as they are similar.
At the front of the shoe, I felt that the 65z3 is slightly wider than the A970Ace (despite not being the wide-edition). It didn't suit my feet as well since it meant slightly more room for the skin to grind against the shoe and cause irritation.
The fit, cushioning, and toe protection felt slightly better in the A970Ace (especially due to the heel padding), whereas the 65z3 felt slightly faster and easier to move around.
Takeaways
A terrific shoe in terms of all-around performance but isn't for the lightweight- or protection-oriented player