Victor A970ACE is a flagship shoe of their all-around series. It was released sometime around the new year of 2022/2023, although it was announced back in October of 2022.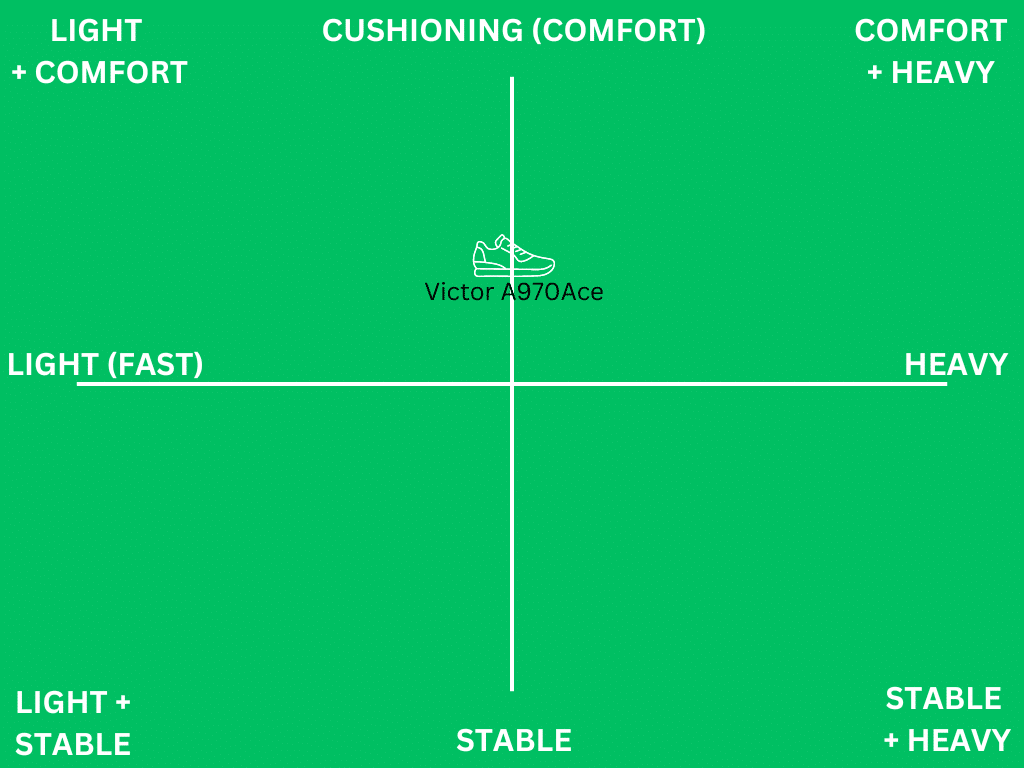 The shoe's name makes it sound like it's an upgrade from a standard model called A970 but my understanding is that there's no "non-Ace" model. That means it follows the same naming pattern and is likely a direct upgrade from Anders Antonsen's previous preferred model, the A950Ace.
The A970Ace comes in three colors: black, something I would describe as baby blue, and finally, a weird white-green-even-lighter-baby-blue-color.
If you've been following the blog for a while, you know that I'm picky about badminton shoe designs, and the color options besides the black one, don't do this model any favors.
The black one is inspired by their Ryuga II racket and looks nice when combined with it (which I struggled to find a photo of).
Since something cool like this happens so rarely in badminton that it's worth mentioning, we must have pretty low standards for our gear.
It's the preferred shoe by Lee Zii Jia, Anders Antonsen, and Chico Aura Dwi Wardoyo, so, of course, I had to test it out.
As far as I'm aware, this is a direct competitor to Yonex's SHB 65Z3, a terrific badminton shoe, so this was an exciting test.
Let's start from the beginning.
Victor A970Ace review and my experience
I'm breaking this up into different mini-chapters. Let's start with unboxing.
Unboxing and first impressions
This was my first test of a Victor pair of shoes and I was excited!
However, the box the shoes came in left a lot to be desired as it was a lot more messed up and not as good-looking as the Yonex boxes from all other pairs I've tested.
The box seemed less stiff and sturdy, and the overall design wasn't as nice. The two QR codes, to learn more about the product (I'm assuming), printed on the box didn't work.
As I opened it up, my first impression was that the shoes looked good, kinda futuristic, but as expected in promo images (as opposed to having been overly photoshopped in the marketing material). It looks better than most other badminton shoes but still a tad too flashy for me.
Upon inspecting the shoe, I noticed an unfortunate trend where the finishing touch on the outside of the shoe, where it's glued together, isn't as beautiful as I'd expect from a flagship shoe.
As usual, I like to break the shoes in for a few days before playing and these immediately felt nice and snug when getting them on. Similar to Yonex's SHB 65Z3 in terms of fit and how snug they felt.
After breaking the shoes in, it was time to get them on court. I've played with them for about twenty hours at this point.
Fit
The A970Ace feels great and is the best one in terms of fit for me thus far on this badminton shoe-reviewing journey.
Victor makes shoes for different toe shapes but I can't tell how much of that is simply a marketing strategy compared to an actual difference in shoes.
My feet seem to follow their Egyptian/Round shape suggesting that their U-shaped shoes would be the best fit for me, however, the A970Ace falls into the V-shape category. No complaints here, but the difference doesn't seem that clear when getting the shoes on court.
I found that this shoe was slightly narrower in the toe area than Yonex's 65Z3, which suited my feet better as it prevented them from moving sideways even more within the shoe than my pair of 65Z3s.
My feet felt nicely supported all around underneath the foot and the extra heel padding was a terrific, although ugly, addition to the overall fit (I'll get to that later).
I don't know how the fit could be any better than this.
The outsole and grip
Next, let's look at the outsole underneath the shoe. From pictures, the look of this one reminds me of Yonex's older Hexagrip. Fortunately, that wasn't the case as I got them on.
The design resembles an Asterisk (*) symbol with a circle in the middle and triangular-looking shapes around it. Victor named this technology Radiation.
They didn't feel as gluey on the floor as the Yonex 65Z3 but equally as grippy. It was just in a slightly different way that's hard to describe. In terms of grip, I prefer the 65Z3s slightly more over these despite the extra time it took me to get used to that grip.
The outsole is broken up into two different bits rather than connected as, say, the Yonex Eclipsion Z3 which is done there for stability. Instead, this seems to help increase performance during "take-off" when you move your feet toward the shuttle as the shoe can flex more.
You might also notice that the back of the outsole, near the heel area, is in a different design than the rest of the outsole. Something we also see on other top-end models from other brands. I'm not entirely sure why as I haven't been able to find any details about it.
If you look hard (or zoom in), you'll also notice the typical small print saying 'non-marking' as they should on badminton shoes.
Victor's technology used on these babies is the VSR Rubber, which appears to be described here, and marketed as anti-slip but the details are unclear.
The toe area and protection
Toe bumps (i.e. when lunging) against the very front of the shoe felt good.
Naturally, it wasn't as protective as Yonex's Eclipsion Z3s but in the same ballpark as the 65Z3s they are competing with, and arguably a bit more. I especially noticed it at the side of the toe area, rather than at the front, where the inner side of the foot and toe meets the shoe.
Here, my toes felt less tired or exposed during training sessions where I did footwork drills compared to the 65Z3s. I noticed it as I switched between the two pairs and during one particular session that was extra hard, I switched from the A970Ace to the 65Z3s halfway through but immediately switched back as I felt I'd be more exposed to blisters.
My training partner first noticed that this pair of Victor shoes appears to have a slightly narrower design at the toe area than the 65Z3. That could be why they fit me a tad better.
I sense that this is subjective based on your feet, so you may not prefer this if your feet are wider than mine (note: I did not use the wide-edition of the 65Z3s).
The toe protection is good as expected for what the shoe is trying to do but nowhere near shoes in the protective category.
The toe area and protection
80%
Insole
The Victor A970Ace insoles are similar to those in the 65Z3s and even have a near identical-looking wavy pattern on the front of the insole.
However, one area where this shoe is less prominent than the 65Z3 is the air ventilation. It's not bad but there are no open areas underneath the shoe to increase the airflow and keep it cooler. There are also fewer air holes in the insole as you'll notice from this image.
I noticed the EnergyMax 3.0 branding on the sole, as I'm sure you did too, but this isn't even mentioned on Victor's product page for the shoes and the description is pretty vague with keywords like shock absorption, cushioning, and resilience.
I'm guessing this isn't something worth caring much about as it gets so little attention from their marketing department.
The heel area
Now to the area around the heel with those unusual purple pillows.
I don't like the looks of them but they do make the fit and the comfort better than on, say, the 65Z3. It feels as though your heel is more tucked in. Like on the Eclipsion Z3, but more like a comfortable pillow that provides just a tad of support and comfort instead of being stable and sturdy but raw.
When switching between the two pairs during a session I immediately feel the difference. Considering that this shoe is in the all-around performance category rather than the comfort or protective category, this is nice.
In a perfect world, the heel area could probably be made higher, more stable, and with even more cushioning but I'm not sure that would make it better.
On the outside of the heel area are these Star Wars-looking spaceship or car-styled "rims" that protect the integrity and sturdiness of the heel around your foot so the shape stays the same when you, for example, land from a jump.
Cushioning and shock absorption
I found the cushioning slightly nicer in this shoe than in the Yonex 65Z3. Not by much but still enough that it's worth mentioning. Don't get me wrong, the pair from Yonex is still great in terms of cushioning and shock absorption, this one is just a tad better around my feet.
It felt even nicer than the Eclipsion Z3 which first confused me as I figured that stability, as the Eclipsion is known for, would equal plenty of cushioning but that isn't necessarily the case (hence why there's a different category specifically for shoes with comfort and cushioning).
Anyway, the difference was quite subtle and not like a big pillow or airbag you instantly notice. I had to switch back and forth between the pairs during a session where my feet felt extra tired, and here, they seemed to get along with the A970Ace better.
I have to admit that in terms of direct shock absorption, I didn't notice any differences between the 65Z3, Eclipsion Z3 or this Victor A970Ace.
The cushioning and shock absorption is made up of many different items but a big part of it is the shoe's midsole.
It's hard for me to tell the difference between the technology and material within the midsole itself at this stage. Victor has highlighted their Hyper EVA technology with a softness that would surprise us customers, so I'm guessing maybe that's what I've come to like.
Here's their promo video for this material. It's cool that they finally are promoting their technologies better so we as players can better understand what's on our feet, but in classic marketing fashion, it's unclear what material they are comparing against so it doesn't really count.
I noticed the hard-to-read E-TPU material printed on the heel, which helps with cushioning and shock absorption but the details shared on Victor's website are vague.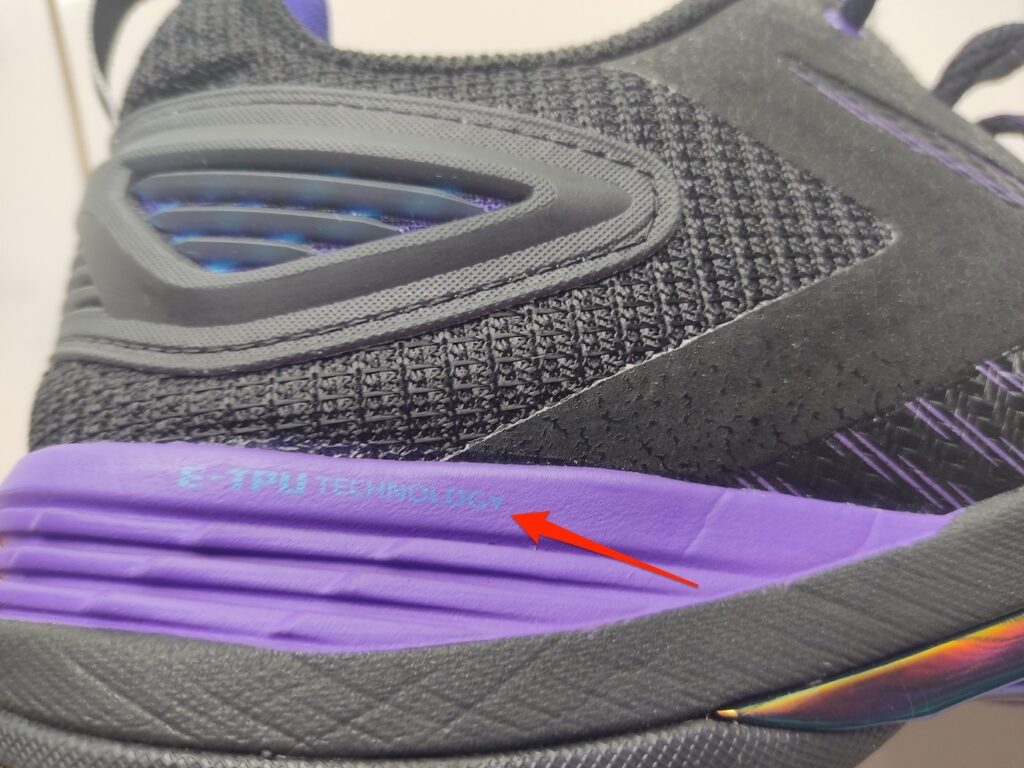 There are a few other technologies used in the midsole but their descriptions are short and it doesn't appear like they are putting energy into marketing them, so I'm going to spare you the details.
The cushioning is good, especially for an all-around performance-based shoe. I only expect this to be beaten by shoes in the cushioning and comfort category.
Cushioning and shock absorption
75%
Upper shoe area
I don't cover this much as it's often something we players don't think about. This area can help keep the shoe stable and in check on your mission to score points.
It can also help provide some durability. The A970Ace has the V-Durable+ logo branded on the outside of the toe area of the shoe.
Victor doesn't share much about this as they just have two paragraphs about it on their website:
"The inner surface of the toe is equipped with protective coatings and a wear-resistant layer for upgraded endurance. In a wear level testing, the wear-resistant technology applied to the toe is more wear-resistant than average PU leather."
I figure that something they put that front and center on the shoe would be something worth learning about, but we'll leave that for another day and skip the rating.
Durability
It's hard for me to judge longevity and overall durability over the long run during my tests but I've found one metric that tends to leave clues about this in the short term.
One thing that often breaks on badminton shoes is the inner side of the shoe where it connects to the big toe on the non-racket foot as we lunge. That's often a good measuring stick to get a sense of durability.
At this point, this pair has barely taken any damage which is great to see but also expected from a top-end shoe. The color conceals it nicely and keeps them looking fresh.
If you're curious how it stacks up against the 65Z3s, here's a comparison. It looks worse on the Yonex pair but I've used them for significantly longer at this point and the white color doesn't exactly help them age. To me, this is even.
Downsides
Before heading into the verdict I feel as if I should touch the downsides. Preparing this A970Ace review has felt quite one-sided.
I don't gain anything from hiding any downsides but I had a hard time finding any when it came to performance. This pair can't be everything to all player types, so where it scores lower in some categories it seems more like a choice of who this shoe is for rather than being poor (which I'll get into in a minute).
On the other hand, it's not a cheap shoe so it's also fair to expect good value.
Victor A970Ace: the verdict
The toe area and protection
Cushioning and shock absorption
Summary
Victor's A970Ace is a terrific flagship shoe in the all-around performance category.

It offers good value for money for what it's trying to do. It's a great choice for the badminton player valuing performance over cushioning and injury protection.
Technology and marketing used in this shoe
| | |
| --- | --- |
| Size Available | EUR 35-48 (220mm-315mm) |
| Outsole | VSR Rubber |
| Midsole | HYPEREVA + E-TPU + TPU + Carbon Power + Solid EVA |
| Upper | V-Durable+ + Double Mesh + Microfiber PU Leather |
Which badminton players are best suited for Victor A970Ace?
Who A970Ace is suited for
This shoe will be a good fit for the tournament player who is serious about performance as it blends protection and cushioning with speed and lightness.
It's also a good fit for the casual player who is looking for performance or doesn't feel like the other shoe categories suit them well.
Who A970Ace is not suited for
This shoe can be a decent choice for senior players but there are better options out there if you prioritize protection against injuries or extra cushioning (see this article on best badminton shoes for ideas).
Victor A970Ace compared to other similar shoes
Finally, let's compare the all-around Victor A970Ace to other similar shoes.
Victor A970Ace vs Yonex 65z3
I've already shared a number of insights about these two shoes throughout this Victor A970Ace review, and you can find the full review of the Yonex SHB 65z3 here.
Thus, this will be more of a recap.
The way each of these shoes shapes itself around your feet through consistent use is different, so you'll notice that the way your foot lies within the shoe will feel different as well. I didn't feel as if any were better or worse, they were just different.
For example, in the Yonex 65Z3 I felt as if the heel area and my feet were more elevated like the starting blocks sprint runners use to set off the race.
Perhaps that's why they make the area near your calves feel slightly sore when wearing them at first – something I haven't found with any other pair of badminton shoes.
At the same time, the 65Z3 felt as if it had a looser fit all around the foot inside the shoe (in the front, sides, and heel). Especially, around the sides of the front foot and toe area but I believe that is highly dependent on your feet, so your experience might be different from mine.
The overall performance feels roughly the same, so you're unlikely to make a big mistake if you pick one pair over the other provided you're looking for an all around performance shoe.
However, the A970Ace feels more protective to me than the 65Z3, especially underneath the toes during front court footwork.
Victor A970Ace vs Yonex Eclipsion Z3
Since Yonex's Eclipsion Z3 falls into a different shoe category, there will be plenty of differences between the two pairs.
I've covered a bit of it during the review, so here are a few key notes for you.
Compared to the Yonex Eclipsion Z3, Victor's A970Ace felt less bulky and faster, as expected. It also felt less hot (I often play in crazy hot weather so for me that makes a difference).
The Eclipsion Z3 doesn't feel particularly cushioned but is more like a sturdy boot for badminton players.
That is except in the front of the toe area where the Eclipsion easily outperforms any other shoe I've tried when it comes to toe protection at the very front and upper of the shoe. However, in a small area underneath the bottom of the big toe, I'd almost say the A970Ace is slightly more protective.
Takeaways
Victor made a kickass all-around shoe in their A970Ace
It offers great value for money if you're looking for a shoe in this category and the protection is felt for me better than in the competing 65Z3 from Yonex
However, which fit you prefer between those two shoes depends on your feet