This Yonex Astrox 88D Game review has been 6 months underway as I was struggling to get my hands on the racket. 
When I finally found a store that had stock available, they only got a few units at any given time, so I had to act quickly. Fortunately, I was able to get it sent to my family and I picked it up the last time I went back to visit them. 
Despite the inconveniences, that just made this review even more exciting.
This Game model is a head-heavy racket prone to power and among Yonex's most powerful ones.
Where the Game is the model intended for intermediate players, the Astrox 88D Play is geared towards beginners, and the Tour and Pro models are for advanced players or better.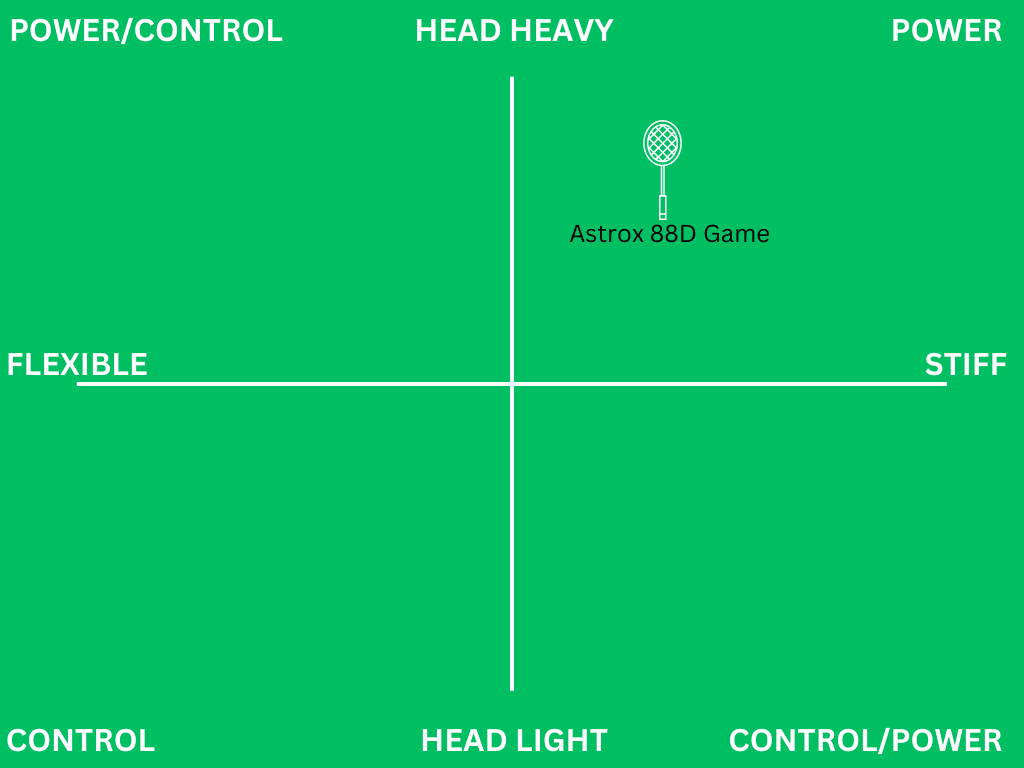 The Astrox 88D series is used by Marcus Gideon and branded as a doubles racket specifically for the rearcourt player. 
As I was researching Yonex's marketing for the racket, I noticed that it's almost exclusively mentioned alongside its cousin, the Astrox 88S, which is intended for the frontcourt doubles player.
It's a sexy idea from a marketing perspective, but let's see how this affordable intermediate-model stacks up on court!
The factory strings that Yonex rackets come with tend to be strung at poor tensions, so I immediately got it restrung. As with other rackets I've reviewed, I got it restrung to the Yonex BG80, which is a power (repulsion) string, to keep my reviews consistent.
The review
I've been playing with this 4U racket for ten hours on court during practice drills and games, and I'm reviewing it with intermediate players in mind.
Coming from the Astrox 77 Pro, which feels stiffer and requires better technique but offers less power, my first experience with the Astrox 88D Game was hitting the shuttle out of the court. A lot.
Net play
As I began playing with this racket, I quickly realized that net play requires plenty of self-discipline and control.
I often found it tricky to generate the perfect amount of power on soft, flat, and short shots. I'd either use too much power and not play as tight as I wanted, or hit the shuttle in an arch, offering my opponents more time to react.
One example of this is playing a "safe" net kill on shots close to the net. The power made it feel SO easy to hit out of the court when you're not able to play it steeply out of fear of hitting the net or having the racket cross over (and causing a fault).
To be fair, that could be down to my technique, but I'm sharing it as you may feel the same if you're an intermediate player.
Power
As you'd expect, power is the key attribute this racket offers.
Unless I was standing behind the double rear service line, it felt almost too easy to hit clears out of the court, especially flatter attacking clears. I had to get into the habit of containing power instead of going all out as you might on less powerful rackets, such as those that are even balanced.
Even being caught off guard on a clear and having to move back to cover it while being out of position was no problem. I've sometimes experienced that on less powerful rackets, like the Astrox 77 Pro, that turns into a poor shot that's far too short. That wasn't the case here.
Lifts felt easy too. I've begun to like getting that extra bit of power a head-heavy racket offers when I get tired or have an off day. It means I can be slightly later on the shuttle and still hit a proper lift to the backline rather than a poor one to the midcourt that gets smashed back in my face.
Smashing is fun but there's not much to say: the racket is among the most powerful for intermediate players. If you love power, you'll like the Astrox 88D Game.
Speaking of smashes…
Midcourt and defense
When it comes to smash blocks, I found that you don't need to use much arm or shoulder movement to send smashes back over the net. Simply letting the shuttle bounce off of the racket while you guide its direction is enough.
"Power drives" that are flat and fast became fun once I got into the habit of controlling the power. 
This racket has loads of power and it's easy to instill even on drives or other slightly softer shots if you can react fast enough. The problem is not generating power, but controlling the shot, so as to play it more precisely rather than going 100% power.
That turns out to suit my habits well. It allows me to focus more on where to place the shuttle, and what my opponents are doing, as opposed to also having to think about the technique in the heat of the moment.
I often found this extra power helpful to get shots over the net from the midcourt when I'm tired. But at the same time, I also found it easy to give just a bit too much power and turn them into these weird middle-of-the-road shots your opponent can easily kill if they are quick.
Conclusion
This racket is a good choice for intermediate players who love power, especially when you consider its price.
It's not just a breeze to play with as you'll often find yourself a sitting duck on middle-of-the-road shots you managed to get over the net and otherwise might not have with a less powerful racket.
To be fair, that can also be tricky with other power-based rackets.
In fact, there are so many similar rackets with loads of power for intermediate players that it's hard to stand out.
While making this Astrox 88D Game review, I found it feeling slightly forgettable in the sea of similar ones. It's not worth the wait if you're looking for a new racket and unable to get it.
Below I'll compare it directly with other similar rackets.
If I had to say something positive and negative about Yonex Astrox 88D Game
POSITIVE
---
This racket's power makes it fun to play with and handy when you get tired or are late to the shuttle.
NEGATIVE
---
Among many similar rackets, this one feels forgettable.
Hey reader, a quick interruption...

I'm experimenting partnering with webshops that sell badminton gear, like Amazon. I'll include links to buy the gear I review and if you do, they'll pay me a small commission. That doesn't change your price and you'll get more play-tested gear as a result but I thought it was fair to let you know.

I appreciate your support,
Aske
Yonex Astrox 88D Game: the verdict
Summary
The Astrox 88D Game is a powerful racket for intermediate players.

That strength also makes it more difficult to control on soft, tight, shots around the net. Playing with it feels like a good, classic smash-prone racket but it doesn't stand out among many other similar ones.

Overall, it's good value for money.

Yonex Astrox 88D Game specifications and technology
| | |
| --- | --- |
| Flex | Medium |
| Balance Point | Head Heavy |
| Weight / Grip | 4U G5 |
| Yonex Astrox 88D Game Technology | Description |
| --- | --- |
| AERO+BOX Frame | A combination of two frame styles. One for power and one for a quick swing |
| ISOMETRIC | Increases the size of the sweet spot (available on all newer Yonex rackets) |
| Rotational Generator System | To generate better whip effect through counter balancing |
| Slim Shaft | Yonex doesn't clarify this item |
| Volume Cut Resin | Described by Yonex as "groundbreaking resin that provides powerful adhesion with less material and weight. This resin is highly versatile in that it can increase durability and strength or reduce weight without compromising strength" |
| Nanomesh Neo | Supports having a stronger but more flexible frame to create more power |
| Energy Boost CAP | It's said to allow the shaft to flex more and help with faster whip effect (i.e. on smashes) while helping stabilize the racket |
Recommended strings
Yonex's recommended strings
Control Players: N/A
Hard Hitters: N/A
Best player types for Astrox 88D Game
Next, I'll give suggestions as to who will be a good fit for this racket.
The ideal player type
The ideal player type is the rearcourt intermediate player who likes power (and a lot of it). If that's you and you want extra power beyond what you can generate with raw technique, you will likely enjoy playing with this racket.
You can make this racket work at the front court too, but it requires tight control, and the racket feels better suited for power shots from the back.
The non-ideal player type (you might not like this racket if…)
If you prefer working the front court, you'll likely feel that this racket has too much power to perform controlled shots to truly put your opponents under pressure.
Astrox 88D Game compared to other popular rackets
Let's look at how the Astrox 88D Game stacks up against other, similar, rackets.
Astrox 88D Game vs. Play, Tour, Pro
The original Yonex Astrox 88D got an overhaul a few years ago and turned into a sub-series of four rackets.
The Astrox 88D Play model is intended for beginners, the Game for intermediates, and the Tour and Pro for advanced and professional players, mainly due to the stiffness of each of the rackets.
I was especially interested in trying this racket as the 88D Pro is so popular, but I knew it would be too stiff for me to work with hence why I chose the Game model.
Astrox 88D Game vs. Astrox 100 Game
Having both rackets available, I brought them both to court at the same time in order to compare them directly.
At first glance, the Astrox 88D Game seems similar to the Astrox 100 Game, especially when comparing the specs.
Playing with them was a different experience though. The Astrox 100 Game felt faster, smoother, and more powerful while the stiffness felt to be about the same.
Astrox 100 Game felt like a ninja sword that slices through the air faster and with less resistance, whereas the 88D Game felt slightly heavier and more like a classic power racket.
I especially noticed that on clears and lifts. I often hit flat attacking clears out of the court with the 88D Game, but even more so with the 100 Game. It feels like everything was beefed up on the latter.
Since my technique is decent but has a lot of room for improvement, the 88D Game took some getting used to, compared to the full-on power machine, and simplicity of the 100 Game.
Ultimately, the 100 Game felt easier and more pleasant to play with as I could focus on just one thing: controlling the power in my shots.
Compare that to the 88D Game which felt more nuanced, where I had to hold back power on some shots while increasing it on others.
That the 88D Game feels slightly less powerful is nice on flat drives, as it's easier to find the right level of power.
On another note, rumor has it that the 88D Game is being phased out of the market. I don't know whether it's true or not, so take it with a grain of salt.
It makes sense, though.
There isn't much need for the 88D Game in the market as there are so many similar choices.
At the same time, the marketing for the 100 Game seems easier as it's the intermediate version of Viktor Axelsen's racket, and he is dominating his category at the time of writing this.
On the other hand, the 88D series is promoted primarily by the doubles pair, "The Minions", Kevin Sukamuljo, and Marcus Gideon. They are currently ranked number 18 in the world but haven't played lately due to illness.
Astrox 88D Game vs. Arcsaber 11 Play
The Astrox 88D Game and Yonex's Arcsaber 11 Play are two different types of rackets. The Arcsaber 11 Play is evenly balanced, good all around, and built with a focus on precision and control.
Counterintuitive to what Yonex's catalog suggests, the Arcsaber 11 Play feels almost as stiff as the 88D Game, but smoother near the net and on drives. Power still feels decent with this racket although it's no match for the 88D Game.
I had to be mindful of not just hammering to the shuttle unless smashing, whereas the Arcsaber 11 Play allowed me to be less controlled in power and go all-in – something that's simpler and easier to remember in the heat of the moment.
The 88D Game felt easier to play with in the backcourt, but harder at the frontcourt than the Arcsaber 11 Play.