Last Updated on September 11, 2023 by Aske
I've been excited to make this Li-Ning Yun Ting review, as it was my first test of a Li-Ning product. I've had no luck getting any of their shoes in my size here in Asia. I had to purchase them back home and pick them up when I was on holiday.
As I painfully discovered, finding information about Li-Ning products, and especially shoes, proved much harder than with Yonex and Victor products. At least for a non-Chinese speaker like me.
This model is currently used by Jonatan Christie, and mixed-doubles pair Alexandra Bøje and Mathias Christiansen. I've only seen it in the all-white look, which made me concerned that they would get dirty and look bad after just a few sessions on court.
At the same time, there are loads of all-white or nearly all-white badminton shoes out there, so it would be hard to distinguish them from others.
I couldn't find too much clear marketing information about this pair of shoes out there, so I was curious to see what I had gotten my hands on.
At first glance, they appear as an all-around performance shoe with a touch of stability due to the outsole being made in one-piece like the Yonex Eclipsion Z3.
More or that later in this Li-Ning Yun Tin review.
Let's dive in!
Li-Ning Yun Ting (YT01) review and my experience
As usual, let's start with the unboxing and first impression.
Unboxing and first impressions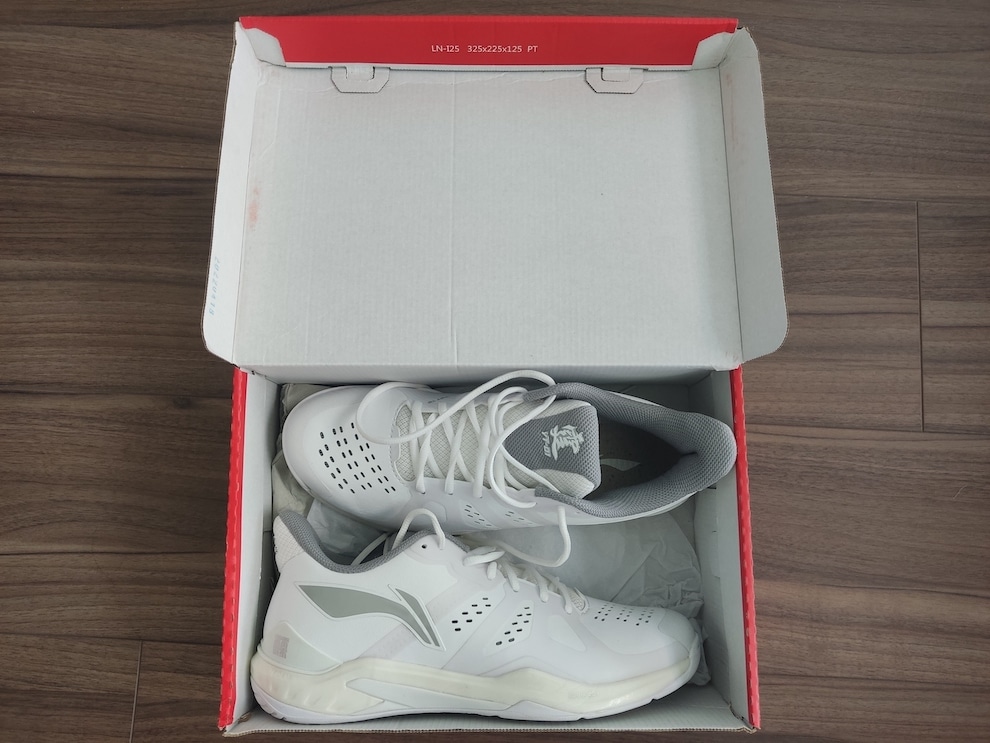 As usual, I wore this pair around the house to break them in for a few hours before playing.
The first thing that jumped out at me after wearing them was that I wasn't a big fan of the upper heel. It reminded me of the Yonex Eclipsion Z3 that almost gave me blisters near the ankle(!) until my skin had adjusted after ten-ish hours of playing time.
It felt stiff and protective but not as comfortable as the purple heel pillow on the Victor A970Ace.
Next, let's look at how this model, also known as YT01, felt while playing on court.
Fit and upper shoe
I liked the fit more than the popular Yonex SHB 65z3 (Axelsen's current shoe) as it felt more snug, but to be fair, my pair of 65z3s had been used for four months or so at this point. The 65z3 felt wider compared to the Yun Ting, despite not being the wide-specific model.
While the YT01 felt great, it didn't feel like anything special in terms of fit compared to other high-end badminton shoes. Nothing stood out, which makes it a good general benchmark to compare against in the future.
The Yonex Eclipsion Z3 (which it likely is most comparable to), feels more stable but raw – like nothing in it is not gonna bend anytime soon. On the other hand, the Li-Ning Yun Ting felt more cushioned with a touch of stability.
The cushioning may sound nicer than something raw and sturdy, at least that's what I thought. Over time, I realized that while the cushioning makes the shoe feel soft, it doesn't inspire the same confidence when you're under pressure and can't move perfectly all the time as you need to change direction, for example.
In an ideal world, we want the qualities of both, which both the Yun Ting and Eclipsion Z3 seem to try to produce but with different approaches.
When first playing with the Li-Ning Yun Ting, I didn't have that crazy positive feeling in any area like I had when wearing Yonex's 65z3 or their Eclipsion Z3 for the first time. Nothing obvious popped out and impressed me right away.
I didn't notice anything unusual or particular about the upper shoe area. The Yun Ting felt snug and just fine – maybe feeling nothing is a positive thing as we usually notice when something is bad.
The outsole and grip
If you've been following my other shoe reviews, you know I'm a big fan of the top-end Yonex outsole and the gluey grip that it provides.
On this Li-Ning Yun Ting, I didn't notice anything poor, but it was as if it wasn't as gluey as I first noticed with the Yonex grip. Interestingly, I've found this to make more of a difference on courts in Asia compared to Europe.
It isn't bad at all, I just didn't notice anything good or bad.
The outsole is built as a one-piece like on the Eclipsion Z3, to offer less flexibility. That sounds like a bad thing, but when you're trying to avoid injuries it's good that the foot doesn't change shape too much as there's a higher chance your foot will land in an awkward position leading to an ankle roll.
The toe area and protection
The toe front- and side-cushion are decent, but nothing special if that is something you prioritize.
It's not as protective and cushioned as the Yonex Eclipsion Z3 at the top of the toe area and at the front, but where it really shines is the cushioning underneath the big toe.
It's better than the Eclipsion Z3s, which I don't entirely understand. It seems like the most obvious place to go all in on protection since our toes will be under pressure during every move on court.
The toe area and protection
Insole
The insoles in this shoe felt soft and with reasonable grip, but with nothing extraordinary worth highlighting compared to other flagship badminton shoes.
However, I noticed that they don't come with air ventilation holes as shown in this example compared with Yonex's SHB 65z3 model. Please keep in mind that the insoles in this image are upside down.
The heel area
The overall heel stability on this shoe feels good and it's on the more stable side compared to many other shoes. That gives confidence in avoiding injuries if you move to the backcourt or land after a jump smash as you work to recover fast.
The upper heel area can feel a bit stiff near the ankle on both sides where you tie the shoelace (the last hole), but so far it's been no problem.
The upper heel area on the inside of the shoe is covered with a thick sausage cushion compared to other models I've tried with a sausage cushion. It feels quite nice but not like the world's best cushion.
I still prefer the Victor A970Ace's pillow cushion near the heel as the fit makes your feet feel more tucked into the shoe while adding cushioning, rather than just being cushioned.
Cushion and shock absorption
This model feels nicely cushioned all around. I've especially noticed it in the sides of the shoe and at the upper back.
It feels highly cushioned underneath your feet, but without being soft to the point where you get concerned about your feet moving in ways you didn't want. It's like a nice blend with stability, so things stay where they should, without feeling raw but still soft.
Exactly like I had imagined the Yonex Comfort Z3 to be before I tried them.
Cushion and shock absorption
Durability
It's always tricky to test durability as I don't play with the shoes for years and years before preparing a review. The best alternative I've found is what I call The Lunge Tear.
It's the tear that we make with our non-racket leg when lunging in order to brake and control our speed. It creates a tear on the side of the shoe that's typically easy to spot.
Before playing with this shoe, this was one of the items I was particularly concerned about as my model is white, so I imagined they would look horribly dirty quickly.
And they did.
On the positive side, The Lounge Tear is holding up nicely, just like the other top models I've tested previously.
The overall verdict
POSITIVE
---
The cushioning qualities, especially underneath the toes is great.
NEGATIVE
---
The shoe can feel hot to play with after a while.
Li-Ning Yun Tin: the verdict
Cushion and shock absorption
Durability (and The Lunge Tear)
Summary
The Yun Ting can feel slightly heavy when you get tired. It doesn't feel as fast and light as the 65z3 despite weighing almost the same.

It's a great shoe, and perhaps my favorite at the moment due to its combination between cushioning and stability.

Overall, this is an awesome shoe if you're a Li-Ning fan but keep in mind that the white design does make it look dirty after just a few sessions.
Next, let's look at who this shoe is suited for and how it stacks up against similar models.
Which badminton players are best suited for Li-Ning Yun Ting?
Let's see who this model is best suited for.
Who Li-Ning Yun Ting is suited for
While this model is popular among Li-Ning-sponsored pro players, I find it well-suited for casual players. Especially those who like their shoes to be protective, comfortable, and cushioned while being all-around without being too deep in one area.
Who Li-Ning Yun Ting is not suited for
It's not suited for the player who's looking for an ultra-lightweight performance shoe. This model is about as heavy as Yonex's popular SHB 65z3, so it's not heavy at all, but it's a lot compared to the most "featherlight" models out there.
Li-Ning Yun Ting compared to other similar shoes
Let's compare this model to other similar shoes you might consider.
Li-Ning Yun Ting vs Yonex Eclipsion Z3
For those of us who are looking for a protective shoe to avoid injuries, the Li-Ning Yun Ting and Yonex Eclipsion Z3 feel like the two best options I've tested thus far.
The Eclipsion Z3 feels more sturdy, stiff, and raw, especially towards the back and heel of the shoe. You notice it immediately, whereas Yun Ting is more cushioned but still stable.
In terms of toe protection, the Eclipsion Z3 feels better protected at the top and front of the toes, but YT01 wins underneath the toe (where your feet land).
The YT01 is probably the most cushioned and comfy I've tried despite not overdoing it to the point where you get concerned because it's TOO soft.
Overall, the Eclipsion Z3 gives that extra feel of stability giving the confidence that there's less chance of rolling the ankle or misstepping, but you treat it for a hotter and more bulky shoe.
YT01 feels more cushioned on the sides and more tucked in on the sides as well. Especially on the sides of the heel. The heel sides on the Eclipsion model feel good, too, but has a more sturdy approach that can feel raw.
Li-Ning Yun Ting vs Victor A970Ace
Victor's A970Ace (used by Lee Zii Jia) is what seems to be their best all-around model.
It feels quite similar to the YT01 all around the foot when you put them on. The snugness and wrap all around the foot feel similar, but a tad looser in the A970Ace.
One of my favorite things about the A970Ace is the purple heel pillows. Yun Ting uses a sausage cushion instead, which isn't as nice but still feels good. Like two different approaches to achieving a similar outcome.
The toe box and protection in both models feel similar. Where the A970Ace feels like a nicer fit for my feet around the sides, the front protection underneath the toes feels nicer on the Yun Ting.
Victor's A970ace feels less sturdy but more soft and cushioned at the midsole. You notice it instantly, especially when landing from jumps.
Li-Ning Yun Ting vs Yonex Comfort Z3
Somehow this Li-Ning model feels much sturdier but less stiff than Yonex's Comfort Z3. I especially noticed that in the front half of the shoe.
The reason I wanted to compare these two models is that it feels as if they are trying to solve the same problem in two different ways: the YT01 by being sturdy but cushioned, while the Comfort Z3 feels more raw and stiff.
The latter feels less pleasant, especially at the front half where it comes across as stiff and raw rather than cushiony and with comfort as the name suggests.
Li-Ning Yun Ting vs Yonex 65z3
What I noticed about the Li-Ning model is that the outer heel feels very sturdy, more so than the Yonex 65z3, which gives me the feeling that it'll keep the shape better over time.
The toe protection in both models felt similar, although better in the Yun Ting. As mentioned earlier in this Li-Ning Yun Ting review, I especially like the protective bit underneath the toes on this model.
In terms of fit, The 65z3 feels tighter and snug around the foot in the upper mid area near the shoelaces. On the other hand, the Yun Ting feels more narrow around the toe. I prefer this slightly narrower design, but you might feel different.